Start | The beginning | How it continued | And continued | And then?
Moan | Blomgrundet | Danielholmen | Baracken | Vårv | Skattlandsforsen | Färsån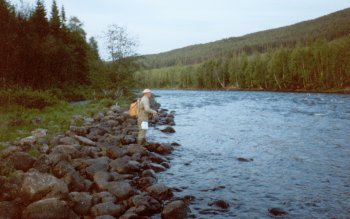 Moan holds one of the absolutely bests streams in Ammerån if you are seeking for the grayling. The interesting current is on the north side and has a bottom structure that gives the grayling numerous nice nice habitats. Above this stream you find old stone coffins thar bear the witness to past times lumber floating, and then it's pretty far before the next really good fishing spot. Better then to go downstream until you reach a small island, Molänningen, as outside itself has an interesting calm water in which you might find both grayling and trout. If you are fishing on the south side you find several interesting streams from Moan and downwards, where the stream starting just below Molänningen is the most interesting. The stream that we locally call "the stream below Borgekojan" is not far behind the stream at Moan in terms of access to capable fishing spots and is well worth a visit. Moan is possible to fish already early in the season once the worst spring floods has subsided. Fishing with worms and top-knotched rods is the recepie in the beginning, but quite soon fly fishing usually works as well. Other spots, around Moan, require a little less water, and thus you have to wait a few more weeks before they get really interesting. Moan requires decent water flow, so when we have a dry summer it is better to instead concentrate your fishing to other sites at Ammerån.

When I was a kid, and my uncle came to visit, we would, me and my dad and Ruben, was fishing most every night, and quite often we got a ride to Moan from where we then fished us back home. At Moan, we made a fire, drank coffee and fished until grayling started to really get on the bite. Only then we began to seriously fish our way homeward. These fishing trips usually took all the night in aspect, and most often it was not until the early morning before we could crawl into bed.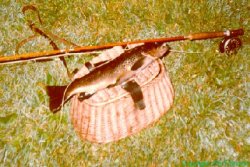 During the first half of the eighties, me and Göran discovered the above-mentioned stream on the south side of the river that begins downstream Molänningen. To get there you had to go up to Överammer to cross the river, and then down again via the road that follows the south side - quite a ride when going by by moped, but well worth it. One of the nights we spent there were preceded by a, for Göran, frustrating experience a few nights earlier. We had spent the night fishing the north side of the river, at Moan, and was about to end the night with a visit to Molänningen. Pretty soon after we got there Göran had a violent strike on his fly, and seconds later, the biggest trout we had ever seen jumped and got off with furious speed down the stream at the end of the island. Göran tried to put pressure on the fish, but it was all in vain and it was not long before the leader snapped. The current evening we had, as mentioned, went to the south side. We had a really great eavening with several nice grayling catched, but no fish of really large size. I stood downstream Göran, fishing in my own bubble, when he suddenly shouted "god damn, move!" while he was running at full speed towards me. He had hooked something big, and this time he did not want to miss the fish in the same way that just days before. I quickly took my rod aside and followed them down the stream, where the fish finally calmed down and went into a bay. After a while the fish, a really nice trout, was finally tired and I could help Göran to land it. If it was the same trout that he had lost, about that you can only speculate, but anyway, he got his revenge.

When fishing the southern side on an other occasion, something happened that I only have experienced once at Ammerån - suddenly it started to hatch and it was grayling showing themself all over the river - the hatch made the fish absolutely crazy. Normally it is virtually only small fish that rise when you are night fishing in the river, and even under the most favorable conditions during late summer days, I have never seen anywhere near as much activity in the river as on this occasion. Our big problem was that we had not brought any dry flies with us, but we overcame that by throwing out, and then reel in the line so that our nymphs passed over the fish just in the surface. The flies came in fairly good speed, but that did not seem to bother the grayling and we had a fantastic fishing that night.



For several years during the nineties, the stretch from Baracken up to upstream Moan was completely closed to fishing - a fishery conservation measure that also was part of a university study at Umeå University. They examined, among other things, how this affected the growth of the grayling within, compared with outside, this area. When the stretch was reopened in the late nineties, I did not hesitate to fish my old favorite places again. The close down period seemed to have done well, and in the new millennium's first year, my cousin Jan-Erik catched the first grayling over one kilo tht I had ever seen in the river. With grayling over one kilo I mean grayling weighing one kilogram or above, something that must be made clear when the phrase "kilogram-grayling" is most often used for grayling from maybe seven or eight hectograms and up, depending on who uses the expression - a phenomenon that was verified when several people, who say they have both caught and seen others catch "kilogram-grayling" now and then, where very interested in the grayling Jan-Erik got and that really weighed over one kilo, and even visited him for a look at the fish in his freezer. Anyway, Moan, perhaps more today than ever, is worth a visit when you are looking for a fight with one of the larger grayling in Ammerån.

Continue to Blomgrundet >>